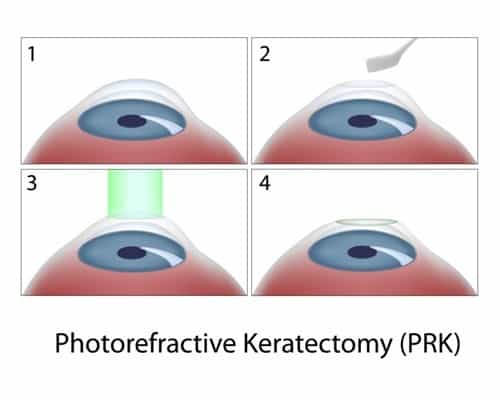 While LASIK is indisputably the most popular refractive surgery available, not all patients who wish to limit their dependence on eyewear are ideal candidates for this procedure. One main alternative is PRK (photorefractive keratectomy). PRK is so safe and effective that even some patients who are candidates for LASIK choose PRK. In this blog, top ophthalmologist Dr. Jay Schwartz discusses why PRK can be a better choice for many patients.
LASIK & PRK: Understanding the Differences
Overall, LASIK and PRK are very similar. Both surgeries carefully reshape the cornea to correct refractive errors like nearsightedness, farsightedness, and astigmatism.
At the start of LASIK surgery, Dr. Schwartz creates a small flap at the corner of the cornea (the transparent outer layer of the eye) with a femtosecond laser. He then pulls back the flap to reshape the cornea to correct the irregularities.
The main difference with PRK is that instead of making a flap, Dr. Schwartz removes the outer layer of the cornea (the epithelium) so that he can reshape it. The epithelium regenerates on its own in the weeks that follow.
The Advantages of PRK
Some patients are not good candidates for LASIK due to factors like large pupils, thin corneas, chronic dry eye, or irregular astigmatism. Fortunately, any of these patients can still be candidates for PRK so that they reduce their use of eyeglasses or contact lenses.
LASIK is known to be a very safe procedure, but PRK arguably has a slight edge when it comes to safety. That is because many of LASIK's rare but potential complications are associated with the corneal flap. Although the recovery for PRK is longer, some patients feel that it is worthwhile to lower their risk for post-surgical complications.
PRK is often the preferred choice for athletes, specifically those who participate in contact sports. This is because athletes are at increased risk for more serious eye injury if they choose LASIK instead of PRK, due to the corneal flap created during LASIK.
The Schwartz Laser Eye Center Difference
Schwartz Laser Eye Center's the state-of-the-art technology allows us eliminate some of the most significant differences between LASIK and PRK. IntraLase LASIK uses the iFS™ Advanced Femtosecond Laser and can create a thinner, stronger flap than traditional LASIK. This means that Dr. Schwartz can safely perform LASIK on patients that other doctors would not, due to inadequate equipment.
Learn More About PRK
If you are ready to see the world without relying on prescription lenses, then you may be a great candidate for PRK, LASIK, or both. To learn about all your options and the benefits of each procedure, please schedule a consultation at Schwartz Laser Eye Center with Dr. Schwartz or Dr. Orry Birdsong in Scottsdale, AZ, by calling (480) 483-3937.