Jay L. Schwartz, D.O.
Board Certified LASIK Surgeon
President, Schwartz Laser Eye Center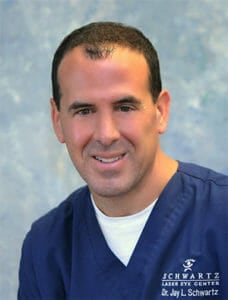 Dr. Jay L. Schwartz has performed over 50,000 LASIK surgeries and offering both IntraLASIK and Custom LASIK procedures, it is not hard to see why professional athletes have trusted the Schwartz Laser Eye Center since 2001. Dr. Jay L. Schwartz was chosen to be the team ophthalmologist  for the Phoenix Suns and The  Phoenix Mercury in 2000, the Arizona Diamondbacks in 2002,  and the team LASIK ophthalmologist for the Arizona Coyotes in 2002. The Schwartz Laser Eye Center is also the official LASIK center of the Suns, Coyotes, and Diamondbacks making it easy to see why Schwartz Laser Eye Center is synonymous with professionalism. In fact, Schwartz Laser Center's doctors spend every spring assisting numerous professional baseball teams preparing for the upcoming year. Aside from providing state-of-the-art refractive surgical options, such as the Visian ICL™, Epi-LASIK and Custom IntraLASIK surgery, Dr. Jay L. Schwartz is an experienced cataract surgeon offering the most advanced intraocular lenses. Options include the AcrySof® Toric IOL to help treat astigmatism. The Schwartz Laser Eye Center is not limited to providing only surgical services; the doctors provide comprehensive eye examinations at all 3 locations and have a wide range of both prescription glasses and sunglasses. We are confident that the Schwartz Laser Eye Center can take care of all of your eye care needs.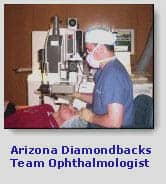 Dr. Schwartz's practice specializes in LASIK. He has traveled throughout the United States and Europe training other surgeons on the LASIK procedure. These locations include: Albuquerque, Chicago, Columbus, Colorado Springs, Dallas, Denver, Nashville, Honolulu, Houston, Minneapolis, Midvale, Orem, Miami, Orlando, Quincy, Illinois, San Antonio, San Diego, Seattle, Tallahassee, Tampa and Florence, Italy. Dr. Schwartz has also trained several other surgeons from around the world at our clinic in Scottsdale, Arizona.
Dr. Schwartz graduated from the Chicago College of Osteopathic Medicine. He finished his Ophthalmology Residency at Midwestern University in Chicago, Illinois in 1997. He received fellowship training from Charles Casebeer, M.D. He has been a principle investigator in an Investigative Device Exemption (IDE) study on the Nidek laser, from which data was submitted to the FDA.
Dr. Schwartz is a Board Certified Ophthalmologist and licensed to practice medicine in Arizona. Dr. Schwartz moved to Arizona in 1997. He currently lives in Scottsdale, with his wife Brenda, daughter Madelyn and son Maxwell.
To read Dr. Schwartz's curriculum vitae please click here.
Marc Bloomenstein O.D., F.A.A.O.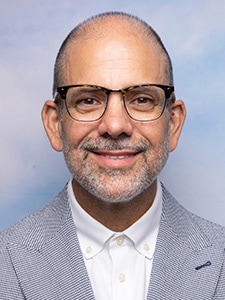 Dr. Marc R. Bloomenstein is a 1990 graduate of the University of California at Los Angeles with a degree in Biology. He received his optometric degree from the New England College of Optometry in 1994. After graduation, Dr. Bloomenstein finished a residency in secondary ophthalmic care at the Barnet Dulaney Eye Center in Phoenix, Arizona. He received his fellowship from the American Academy of Optometry in December, 1998 and is a founding member of the Optometric Council on Refractive Technology.
Currently, Dr. Bloomenstein is at the Schwartz Laser Eye Center. Aside from lecturing and publishing on numerous anterior segment and refractive topics, Dr. Bloomenstein is on the editorial board of Primary Care of Optometry and Contemporary Optometry. Dr. Bloomenstein served as the President of the Arizona Optometric Association, as well as an Optometric Advisor to STAAR Surgical and Medtronics Solan. Dr. Bloomenstein is the President of the Board of the Arizona Optometric Charitable Foundation. Dr. Bloomenstein does not have any financial interest in products discussed in his lectures.
To read Dr. Bloomenstein's curriculum vitae please click here.
Kevin M. Donausky, O.D.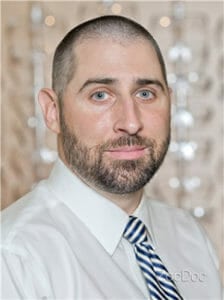 Dr. Kevin Donausky was born and raised in the south suburbs of Chicago. He is a graduate of the University of Illinois at Champaign / Urbana where he earned his degree in biology and played on the lacrosse team. He then earned his doctorate at the Illinois College of Optometry in 2003. Later that year, he moved to Arizona after meeting his lifetime quota for shoveling snow.
Dr. Donausky has been in clinical practice with Dr. Schwartz since 2003. He provides comprehensive eye care, co-management of LASIK and cataract surgeries, and has been entrusted to care for many of the valley's and the country's professional athletes. Dr. Donausky has been a clinical investigator for many ophthalmic studies, an adjunct clinical assistant professor, and was named by "Newsweek" magazine as a Top 50 Optometrist in "America's Best Optometrists 2021."
Dr. Donausky is licensed to practice in Arizona and has met and completed all requirements of the National Board of Examiners in Optometry.
When he is not working, he enjoys spending time with his wife Dawn and two dogs, reading, hiking, golfing, and trying to keep fit.
Orry Birdsong, M.D.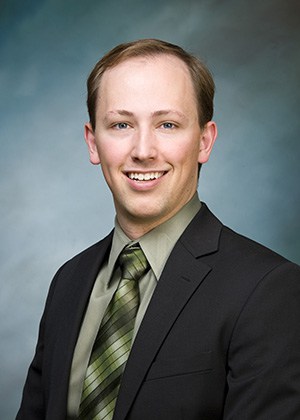 Dr. Orry Birdsong is a board-certified ophthalmologist that completed his medical school and residency training at the University of Texas Medical Branch in Galveston, Texas. He completed his Cornea and Refractive fellowship training at the esteemed Hoopes Vision under the mentorship of Majid Moshirfar, MD in Draper, Utah. His surgical specialties include laser-assisted cataract surgery, clear lens exchange procedures, LASIK, PRK, Microinvasive Glaucoma Surgery (MIGS), and Corneal Crosslinking. In addition to surgical care, Dr. Birdsong provides full comprehensive eye care for all of his patients and is a dry eye specialist that provides autologous serum tear drops and other forms of advanced dry eye therapy.
A native of Amarillo, TX, Dr. Birdsong received his undergraduate degrees in Biochemistry and Health Sciences at Southwestern Oklahoma State University. During his medical school and residency, Dr. Birdsong worked through multiple hospitals in Galveston including the Texas Department of Criminal Justice's Hospital Galveston as well as the prestigious Houston Methodist Hospital and MD Anderson Cancer Center. Furthermore, Dr. Birdsong has worked abroad with the Unite for Sight organization providing eye care for patients in the Central, Greater Accra, and Ashanti regions in Ghana, Africa.
Dr. Birdsong is currently licensed to practice in Arizona and Texas. He currently lives in Scottsdale and enjoys spending time with his wife Tayrsa.
Shay Mohebbi, O.D.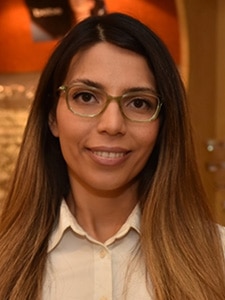 Dr. Mohebbi earned her bachelor of science in biology from Arizona State University where she was placed on the Dean's Honor list 3 times. She then received her doctorate from the Arizona College of Optometry in 2020. After graduating she completed her residency in Ocular disease/ Primary Care at The Eye Institute of Pennsylvania College of Optometry where she was in charge of precepting students in clinic and worked as a teaching assistant in labs. During her residency program she worked in a multi-disciplinary clinic where she managed patients with glaucoma, diabetes, neuro-ophthalmic disease and co-managed pre and post care cataract/refractive surgeries and posterior segment disease such as retinal artery/vein occlusion. Dr. Mohebbi values continued education and she is an author of multiple CE approved courses on posterior segment disease such as papilledema and retinal emboli. She also presented a poster at American Academy of Optometry 2020.