Intraocular lenses (IOLs) are surgically implanted in the eye near the end of cataract surgery. These plastic implants, originally designed only to efficiently imitate the eye's natural lenses, now provide capabilities that transcend the limitations of the cataract-clouded lenses they replace. One of the most exciting new intraocular lenses is the AcrySof® IQ Vivity™ IOL.
New Technology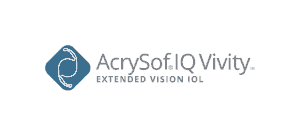 Dr. Jay Schwartz was the very first eye surgeon in Arizona to implant the new AcrySof IQ Vivity lenses, which provide clear vision at a wide range of distances, without some of the traditional drawbacks of multifocal lenses. A non-diffractive approach that the manufacturer refers to as "X-wave" technology maximizes available light by bending, rather than splitting, light into several focal points. As a result, vision is sharper even in dim indoor lighting. The X-wave process also reduces the likelihood that a patient will experience glare, halos or starbursts around lights at night. In addition, the technology has the unexpected benefit of offering a degree of protection from blue light from digital screens and LED lighting, as well as solar UV rays.
Range of Benefits
AcrySof IQ Vivity is a step beyond multifocal options, offering a continuous extended focal range from near vision to intermediate to far distance. The Vivity lens is an especially dramatic improvement when it comes to intermediate distances, providing clarity far beyond what can typically be achieved with monofocal lenses. This allows for freedom from glasses in most daily activities.
The lenses provide slightly less visual acuity at very close ranges, but this is balanced by improved long-distance sharpness. Even so, clarity is usually sufficient for most near-vision tasks, although small print may require reading glasses. One version of this product, the AcrySof IQ Vivity Toric Extended Vision IOL, will also correct for astigmatism.
In clinical trials, patients reported high satisfaction and outstanding outcomes with AcrySof IQ Vivity IOLs. In one study, 94 percent of participants rated visual acuity at distances as good or very good. Arm's-length distance was similarly rated by 92 percent. For near vision, 47 percent of Vivity patients indicated they did not need glasses to read a book, compared with 16 percent in a control group that had received standard lenses.
The Future Looks Bright
Many ophthalmologists have begun to describe the new Vivity lens as a game-changer that is destined to make traditional monofocal IOLs obsolete. For patients who prefer complete independence from glasses, existing multifocal IOLs may still be the preferred option. But the AcrySof IQ Vivity IOL is likely to become the first choice for many cataract surgery patients seeking extended range vision with enhanced visual acuity.
If you would like to learn more about the new AcrySof IQ Vivity IOL, we invite you to schedule a personal consultation with skilled ophthalmologist Dr. Jay Schwartz at his Glendale, Mesa or Scottsdale office by calling or emailing Schwartz Laser Eye Center today.