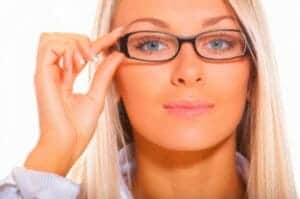 Clear lens exchange, also called refractive lens exchange (RLE), is nearly identical to cataract surgery. It usually takes less than 10 minutes and is performed on an outpatient basis, so you can return home the day of your procedure. Each eye is treated separately, typically a few weeks apart. To ensure your complete comfort, you will receive twilight anesthesia (a mild sedative that prevents pain and anxiety) as well as medicated drops to numb the eyes.
Am I a Candidate for Clear Lens Exchange?
The best way to determine whether you are a good candidate for clear lens exchange is to meet with Dr. Schwartz for an in-person evaluation and consultation. However, generally candidates for clear lens exchange are individuals who:
Have presbyopia (age-related loss of near vision)
Have moderate to severe hyperopia (farsightedness)
Do not qualify for LASIK or PRK because of thin corneas or another reason
Are not good candidates for phakic IOL surgery
Treatment Details
Clear lens exchange is a procedure almost identical to cataract surgery. It typically takes about 15 minutes and is performed on an outpatient basis, so you can return home the day of your procedure. Each eye is typically treated separately, about a week apart. Your eyes will be numbed with eyedrops for your complete comfort.
A small incision is created in the eye to access the capsule that holds the lens. The lens is broken up into small pieces and the pieces are removed from the eye. Once all of the pieces have been removed, a foldable intraocular lens (IOL) is inserted into the lens capsule and carefully positioned. Then, the incision is closed. Once in place, the lens is not visible to the naked eye. It is designed to last for the rest of your life. Since it is not affected by age-related changes, the chances of losing its corrective effect over time are very slim.
Understanding Your IOL Options
You have a choice in intraocular lens implants. They include:
Monofocal IOLs (like Tecnis Toric) provide clear vision at a fixed range: either near, intermediate or distance, but not all three. Most patients who require complicated prescriptions choose to have monofocal lenses set to correct distance vision, and then put on reading glasses when they need to look at objects up close.
Multifocal IOLs (like PanOptix) provide clear vision at multiple distances. Unlike bifocal lenses that divide the lenses into sections, multifocal lenses incorporate distance and near prescriptions uniformly. With some practice, the brain learns to focus on the part of the prescription it needs at a given moment while "tuning out" the rest.
Accommodating IOLs (like Crystalens) enable clear focus at multiple distances. They respond to the movements of eye muscles, allowing your eyes to shift focus to the correct distance.
Extended depth of focus IOLs (Vivity) reduces visual disturbances by using all light available to extend the depth of focus. Patients can see well in both dim and bright lighting, whereas some multifocal lens patients notice halos and glares at night.
The eye doctors will examine each patient's prescription and listen to his or her personal preferences so that, together, they can choose the IOL that is best for the patient.
Recovering from Clear Lens Exchange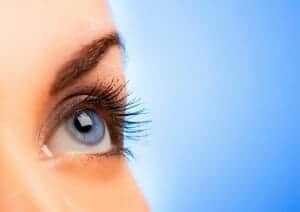 After surgery, you must go home and sleep or relax for the rest of the day. Avoid doing anything to strain your eyes, including reading, watching television or using the computer.
Most patients are able to reduce their dependence on reading glasses, unless they opt for a monofocal IOL that provides clear focus at one distance. Also, having clear lens exchange eliminates the need for future cataract surgery, since the artificial lens cannot become clouded like an aging natural lens.
Clear Lens Exchange FAQs
What is the difference between LASIK, ICL, Cataract Surgery and Clear Lens Exchange?
While all four procedures are designed to improve the patient's vision, each serves a different purpose. LASIK reshapes the cornea with a laser to correct common refractive errors like nearsightedness, farsightedness and astigmatism. ICL (implantable contact lens) is an alternative to LASIK that permanently places a collamer lens between the natural lens and iris to help clear up vision and eliminate the need for eyeglasses or disposable contact lenses.
Patients whose sight has become cloudy due to cataracts can have their natural lens removed and replaced with an intraocular lens (IOL) in a procedure known as cataract surgery. Clear lens exchange is virtually the same procedure, but it is used to replace the natural lens with an artificial lens that corrects refractive errors. Cataract patients may also select IOLs that help them to see better without wearing prescription lenses.
How long will my new lens last?
IOLs are made of clear, medical-grade plastic (usually silicone or acrylic) and coated in a substance that helps to block harmful UV rays. They should be effective for the rest of your life; you almost certainly will not need to repeat this surgery in the future.
How do I choose between the types of IOLs?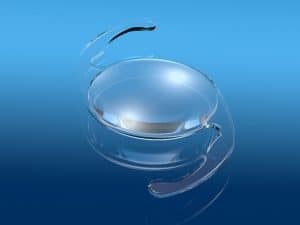 Before scheduling clear lens exchange surgery, your doctor will give you an extensive vision test to determine the precise measurements of your refractive errors. The doctor will then make a recommendation based on your specific needs. If you need assistance seeing at only one distance (near, far or in between), then monofocal lenses may be a suitable option. If you want to correct vision at multiple distances, multifocal or accommodating IOLs are the better option.
Will insurance cover clear lens exchange?
Clear lens exchange is an elective procedure aimed at correcting refractive errors to minimize your reliance on eyeglasses and contact lenses. As such, it is not covered by most insurance plans. Schwartz Laser does offer financing options through CareCredit for those who wish to make payments toward the total cost of the surgery.
Are there other benefits to getting clear lens exchange?
One of the top selling points of lens exchange is that it prevents you from developing cataracts later in life. Cataracts cause vision problems in about half of the population by age 75. Fortunately, cataracts cannot form on an artificial lens, so you will not be affected by this condition after having clear lens exchange.
Contact Schwartz Laser Eye Center
To learn more about refractive lens exchange and whether it is right for you, please contact Schwartz Laser Eye Center and request a RLE consultation. Call us at 480-483-3937 or 888-553-3937, or email us today.