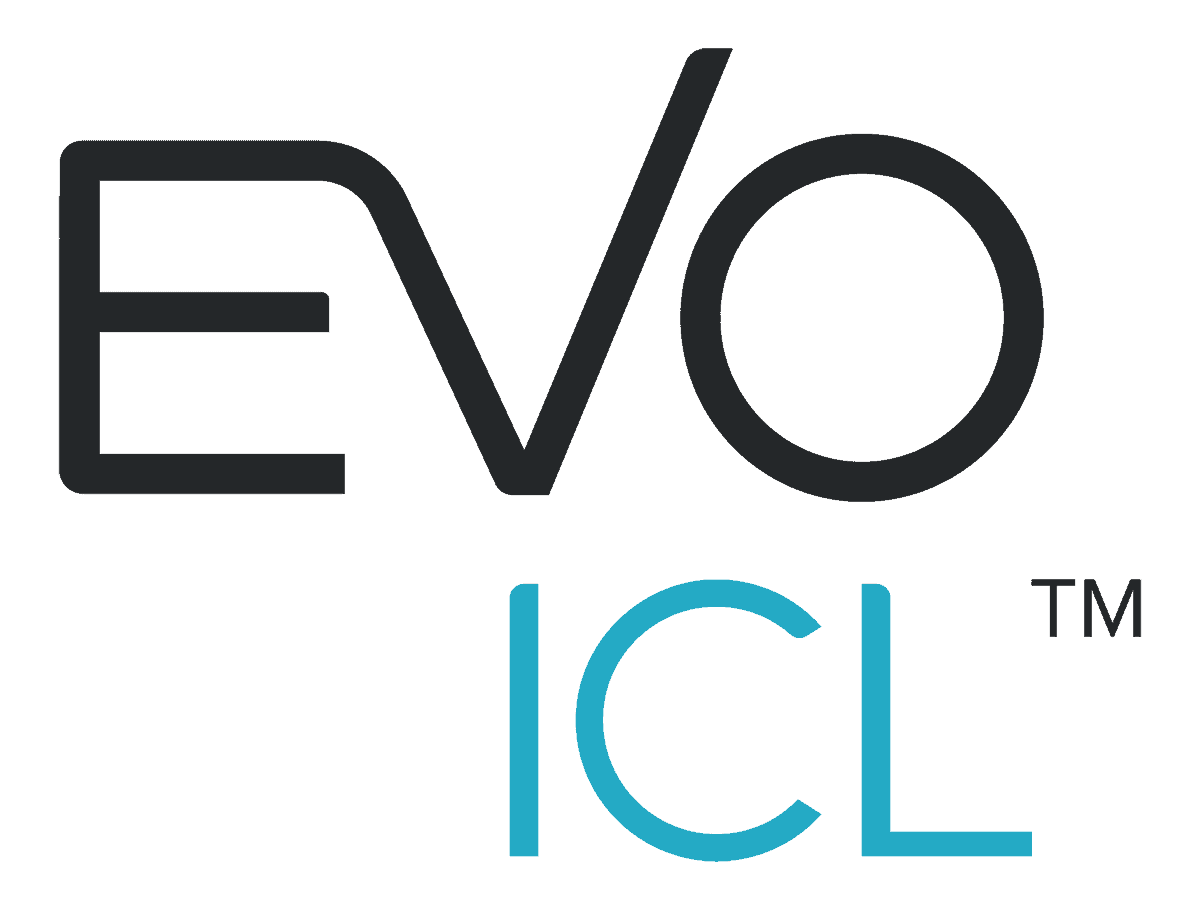 Our ophthalmologist and experienced eye surgeon, Dr. Jay L. Schwartz, is proud to offer various options to improve your vision. He understands how much blurry eyesight can impact your life and uses advanced laser technology and leading-edge techniques to provide comprehensive vision improvement. EVO ICL™ is an Implantable Collamer® Lens (ICL) that corrects vision in nearsighted people with or without astigmatism, with minimal recovery and no corneal tissue removal.
EVO ICL™ gives you the freedom of clear, crisp vision with the flexibility to reverse or upgrade the implanted lens. For people who want to live without the burden of glasses and contact lenses and don't qualify for LASIK, EVO ICL™ offers an alternative route to improved eyesight.
What is EVO ICL™?
EVO ICL™ is a refractive implant designed to correct myopia (nearsightedness) and astigmatism. This implantable lens offers permanent vision improvement but is also removable. The device is inserted behind the iris (the pigmented portion of your eye) in front of your natural eye lens. EVO ICL™ offers excellent night vision and does not lead to dry eye syndrome.
The EVO ICL™ Procedure
EVO ICL™ is made of a biocompatible collamer that works harmoniously with your eye. Dr. Schwartz creates a small incision in the cornea to implant the lens with precise positioning. Most patients report the procedure is overall painless as numbing drops are administered to avoid discomfort. The insertion takes less than 10 minutes and you may notice improved vision right away. You will have post-operative appointments and follow-ups to ensure a successful result.
What are the Benefits of EVO ICL™?
This new technology offers sharp vision for those with nearsightedness, with or without astigmatism, and boasts many benefits over other methods, including:
EVO ICL™ is a good alternative for those who don't qualify for LASIK due to thin corneas or high myopia.
The procedure and implant do not contribute to or worsen dry eye syndrome.
The collamer lens provides UV protection and exceptional night vision.
The implanted lens is not visible to the naked eye after it's inserted.
To view the Comparison Chart and learn the difference between LASIK, PRK and EVO ICL, CLICK HERE.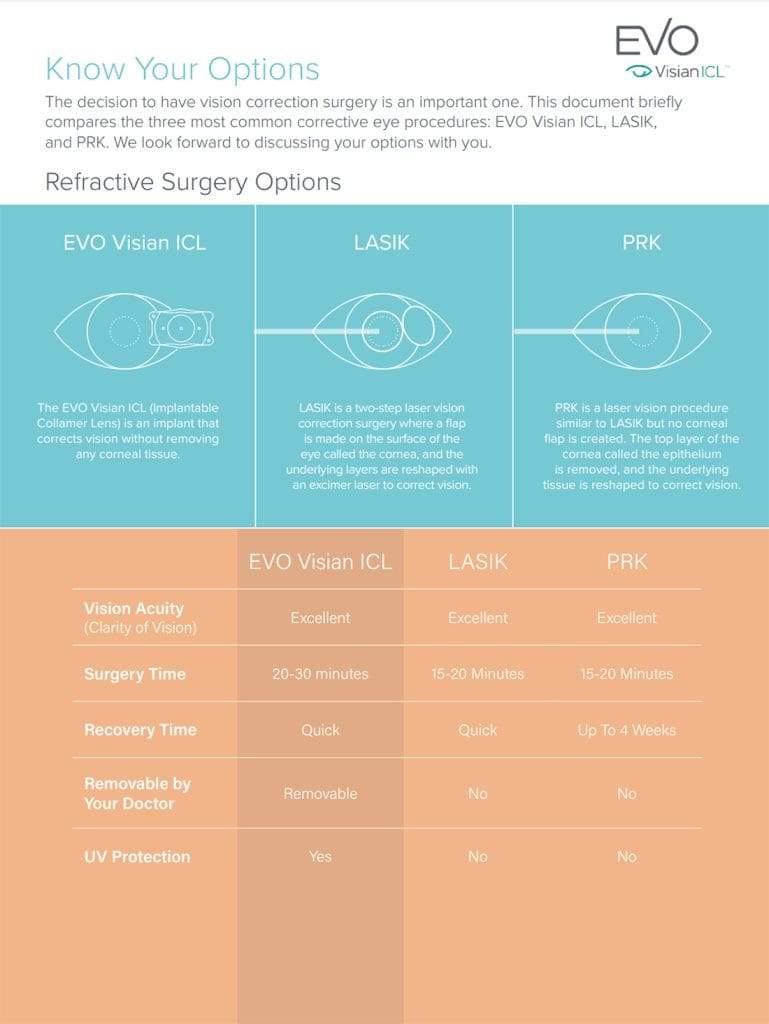 Candidates for EVO ICL™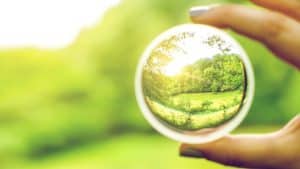 EVO ICL™ can address nearsightedness in people with prescriptions up to -20 diopters and 4.0 diopters of astigmatism. Most patients are ages 21 to 45, but the ICL works for a variety of people. You must have a stable prescription for one or more years and a desire to eliminate the frustrations and costs of contact lenses and prescription eyeglasses. EVO ICL™ is not suitable for pregnant or nursing women. You should have good eye health with no history of eye diseases, such as diabetic eye disease, glaucoma or iritis.
While EVO ICL™ will not work for farsightedness, it can provide better vision in people with moderate to severe nearsightedness and astigmatism and enhance your ability to see clearly at night. Dr. Schwartz can discuss the pros and cons of your vision correction options and determine if EVO ICL™ is the right procedure for you.
EVO ICL Patient Testimonial Video
To view the Patient Selection Guide, CLICK HERE.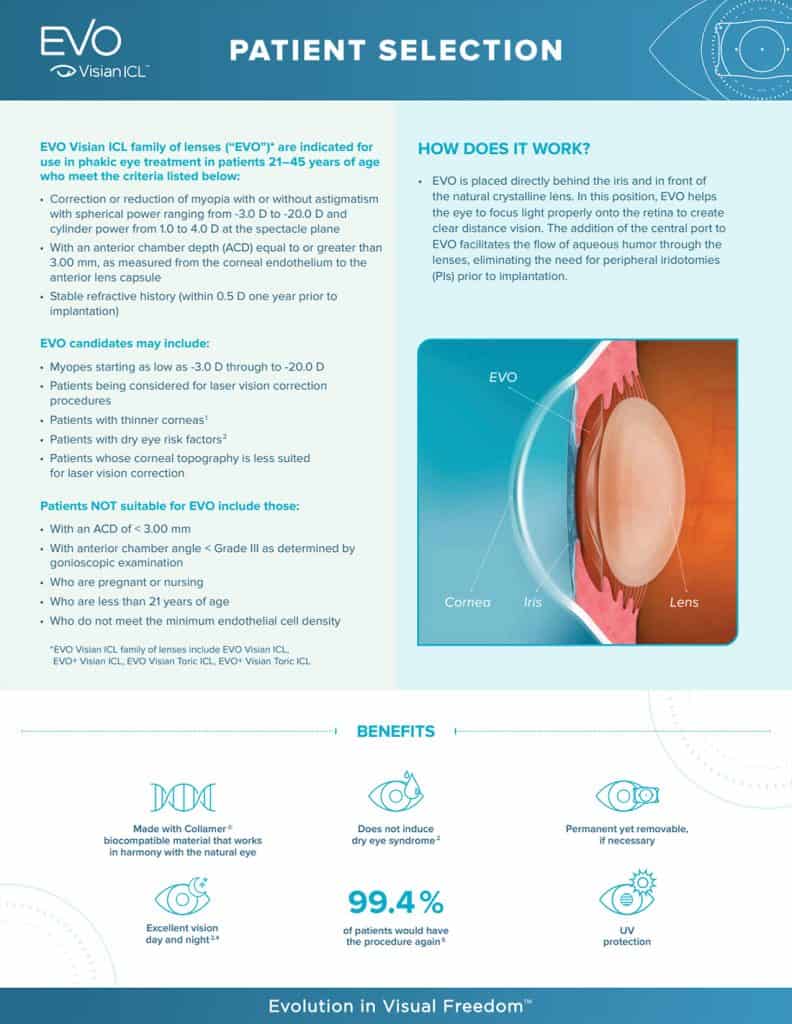 EVO ICL FAQs
Does EVO ICL have FDA approval?
The FDA approved EVO ICL for the treatment of nearsightedness in 2005. The newest generation of EVO ICL was re-approved in 2022.
What causes nearsightedness?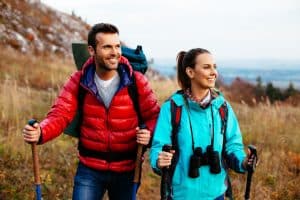 Myopia most often occurs when the eyeball has an oval shape that is longer than average. In some cases, nearsightedness occurs when the curvature of the cornea is abnormal. Due to these irregularities, the incoming light rays refract prematurely. This prevents light from reaching the retina at the back of the eye correctly. Since the retina is responsible for communicating with the brain, patients see objects in the distance with less clarity. Fortunately, EVO ICL is highly effective at correcting nearsightedness.
What is recovery like after EVO ICL?
Most patients experience little to no discomfort during or after their procedure. Anesthetic drops are used to keep the patients' eyes comfortable during the procedure. Once the numbing sensation wears off, patients should not experience any pain, and they should feel well enough to resume their normal activities such as working and driving as soon as the following day. Although complication rates for this procedure are very low, the doctors at Schwartz Laser Center schedule follow-up appointments to ensure their patients' eyes are healing correctly.
How soon after EVO ICL can patients see clearly?
Many patients notice a dramatic improvement to their vision as soon as their treatment is complete. However, results differ from one patient to another, so it can take multiple days for crisp vision to manifest as the eyes continue to heal.
Can patients feel EVO ICL in their eyes?
Patients cannot feel EVO ICL in their eyes, in part because they do not move around. Once the eyes have healed, patients often forget that they have them altogether aside from being able to see without prescription eyewear.
Is EVO ICL visible to other people?
The lens is placed behind the iris, which means that friends, relatives, and coworkers cannot detect that EVO ICL is in a person's eye.
What advantages does EVO ICL have over LASIK?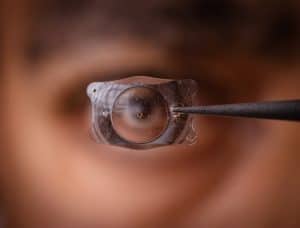 Unlike LASIK, EVO ICL does not remove any corneal tissue, thus leaving the eye fully intact. EVO ICL also offers UV protection to the cornea, which LASIK cannot provide. Furthermore, EVO ICL is not known to cause temporary dry eye, as is the case for many LASIK patients.
How much does EVO ICL cost?
The price of ICL is comparable to LASIK. Specific costs can be discussed during a consultation. Because this is an elective procedure, it is not covered by insurance plans. However, we do accept financing options through CareCredit, a leading medical lender, to help make payment manageable for our patients.
Can EVO ICL be removed?
EVO ICL is designed to remain in the eye for the patient's entire life. No maintenance is required to keep the ICL effective. However, if a situation does develop where a patient or doctor feels that the lens should be removed, this can be done safely without causing any harm to the eye.
Contact Schwartz Laser Eye Center in Scottsdale, Glendale and Mesa
If you struggle with nearsightedness and astigmatism, EVO ICL™ may be right for you. Schedule your consultation with Dr. Schwartz or his esteemed colleague Dr. Orry Birdsong today by calling 480-483-3937 or 888-553-3937.