Schwartz Laser Eye Center Blog
Scottsdale, Glendale, Phoenix & Mesa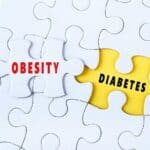 Diabetes is dangerous not only to your overall health, but also to the health of your eyes. Diabetes increases your risk for glaucoma and cataracts, and may trigger diabetic retinopathy. Here, experienced ophthalmologist Dr. Jay Schwartz of Phoenix-area Schwartz Laser Eye Center outlines effective strategies to prevent diabetic retinopathy by addressing diabetes and obesity.