FAQ's

What is the inlay, exactly?
It is a tiny disc, about the size of a pinhead. It is comprised of approximately 80 percent water and is placed just beneath the surface of the eye. It works by gently changing the central curvature of the cornea, clear front part of the eye. Raindrop® is made of a soft, biocompatible material similar to a soft contact lens, which has similar properties and water content as the cornea.
Is it painful?
Numbing drops are given for the procedure, but most patients do not experience any pain.
Does it interfere with far vision?
While Raindrop is implanted in one eye only, both eyes work together to create one image. The Raindrop eye provides an improvement in near vision associated with a slight decrease in distance vision. With both eyes working together there is not a compromise for distance vision and patients still have a significant improvement in near vision.
Is it safe for the eye?
Extensive trials and usage show that it is safe. This was confirmed by the US FDA. Raindrop is bioengineered to facilitate the transport of nutrients and fluid to the eye.
Can the inlay be removed if necessary?
Yes, the Raindrop can be removed and most patients go back to their vision before Raindrop.
How does it work in low light?
Very well. Since Raindrop is transparent 99.7% of light passes through the inlay reaches the back of the eye where the image is processed.1 Raindrop offers patients good performance in all lighting conditions.
Who developed this product?
The company that developed manufactures, and markets Raindrop is ReVision Optics, Inc. based in Southern California. The company focuses on the research and development of custom optical solutions dedicated to presbyopic vision correction.
Where is Raindrop® available?
The Raindrop Near Vision Inlay has received approval by the U.S. Food and Drug Administration, authorization to affix the CE Mark for the European Union, license approval by the Ministry of Food and Drug Safety (South Korea), approval by the Therapeutic Goods Administration (Australia), and registration with the Medicines and Medical Safety Authority (New Zealand). Other country-specific registrations are pending.
For more information please contact Schwartz Laser Eye Center at 480-483-3937.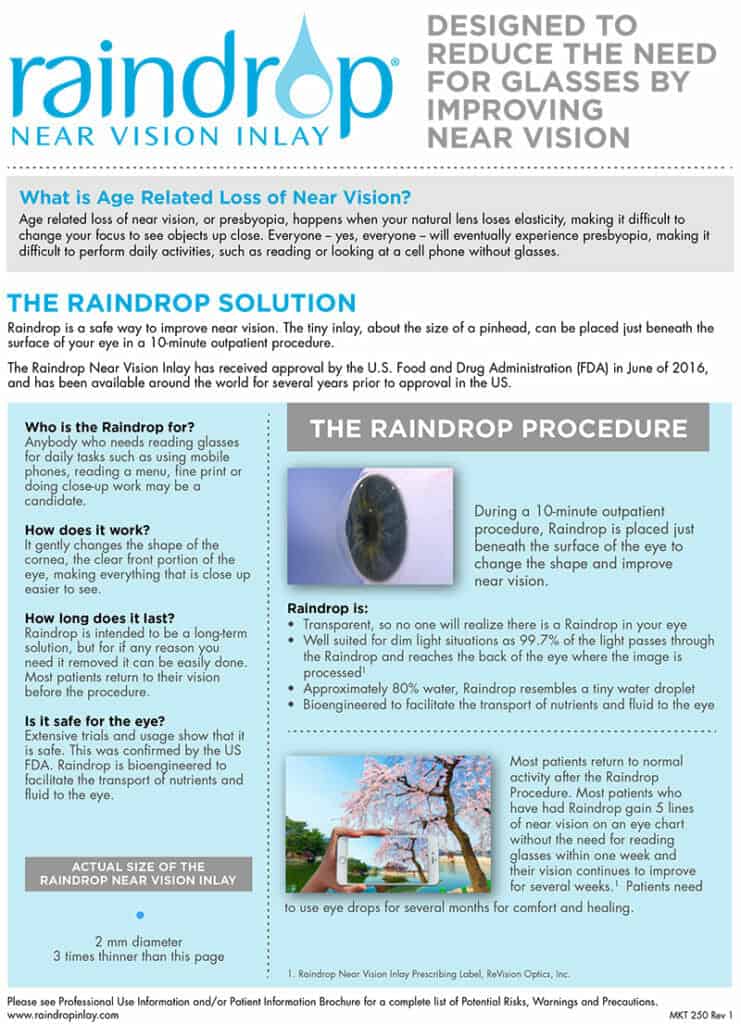 1. Raindrop Near Vision Inlay Prescribing Label, ReVision Optics, Inc.
Please see Professional Use Information and/or Patient Information Brochure for a complete list of Potential Risks, Warnings and Precautions.
www.raindropinlay.com MKT 243 Rev 1
KAMRA Cornea Inlay for Presbyopia Scottsdale, Arizona
Most people notice a decline in quality of near vision in their 40s or 50s. The eye's natural lens, which is flexible and elastic throughout our 20s and 30s, becomes more rigid with age. It does not adjust or bend to bring close objects into focus. This natural loss of near vision is called presbyopia. If you frequently squint to read a menu or send a text message, you probably have presbyopia. Unfortunately, the condition progresses over time, and will only get worse.
The KAMRA inlay is an effective, long-term solution to this frustrating problem. The inlay, which is smaller than a contact lens and positioned in the cornea, restores near vision (while preserving distance vision) so you don't have to put on glasses to glance at your watch or phone. Thanks to the KAMRA inlay, many people enjoy a natural range of vision despite advancing age.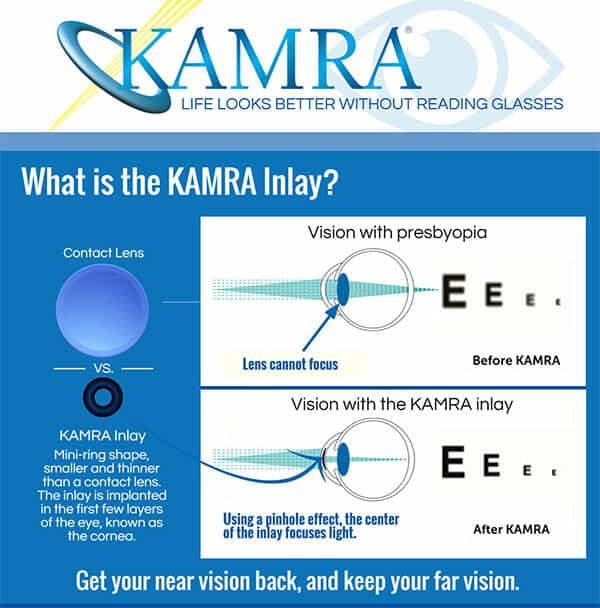 Am I a Candidate for the KAMRA Inlay?
You may be a suitable candidate for the KAMRA inlay if you:
Are between the ages of 40 and 60
Struggle to read your smartphone, computer screen, menu or watch without glasses
Want to reduce dependency on reading glasses
Have not had laser vision correction or cataract surgery
Understand the benefits and possible risks of the KAMRA inlay
Talk to the team at Schwartz Laser Eye Center about whether the KAMRA inlay is a good fit for your personal vision needs. We will perform a thorough eye examination and inquire about your health status, medical history, lifestyle and treatment goals before making that determination.
If we decide you are a good candidate for treatment, we will schedule your procedure. You will receive more information about how to prepare for treatment, and what to expect. You are encouraged to ask any questions you have about the procedure, technology or the inlay itself.
If you are not a good candidate for the KAMRA inlay, we can discuss treatment alternatives.
The KAMRA Placement Procedure
The KAMRA inlay is placed during a quick procedure. The eyes are anesthetized with numbing drops to ensure you remain comfortable throughout the procedure. You may feel slight pressure, but it should not be painful.
A femtosecond laser is used to create a small opening and pocket in the cornea (the first few layers of the eye). This takes a few seconds. The inlay is inserted through the opening and positioned in the cornea, centered over the pupil. Once it is placed, it bonds to the corneal tissue almost immediately. Because of the way the inlay is positioned in the eye, it cannot be felt and is rarely noticeable. The inlay has a miniscule pinhole in the center, which allows only focused light to enter the eye. Only one eye is treated; the other is left untouched. The treated and untreated eyes work together to allow for clear near and distant vision.
Recovering from the KAMRA Placement
You will not be able to drive home after the procedure or until Dr. Schwartz clears you. Your eyes may feel mildly irritated or scratchy after the numbing drops wear off. Light sensitivity and tearing are common after the procedure. Medication is prescribed to manage these side effects. You can return to work and other normal activities within a day or two. Most patients notice an improvement in their vision after the first week to a month, while others need additional healing time.
For the quickest healing and visual improvement, Dr. Schwartz recommends you take your medications and eyedrops as prescribed, attend all follow-up appointments and avoid using reading glasses. It is normal to have some fluctuation in vision for three to six months after the placement of the KAMRA.
If, for some reason, you do not find the KAMRA inlay helpful or you are unsatisfied, the KAMRA inlay can be removed. Clinical studies show that vision returns to the level the patient had prior to the placement of the KAMRA inlay.
Watch Videos about KAMRA Inlay
Contact Schwartz Laser Eye Center
To learn more about presbyopia and the KAMRA cornea inlay from our Scottsdale ophthalmologist and optometrist team, please contact Schwartz Laser Eye Center, also serving Glendale. Call 480-483-EYES (3937) or send us an email today.